Challenge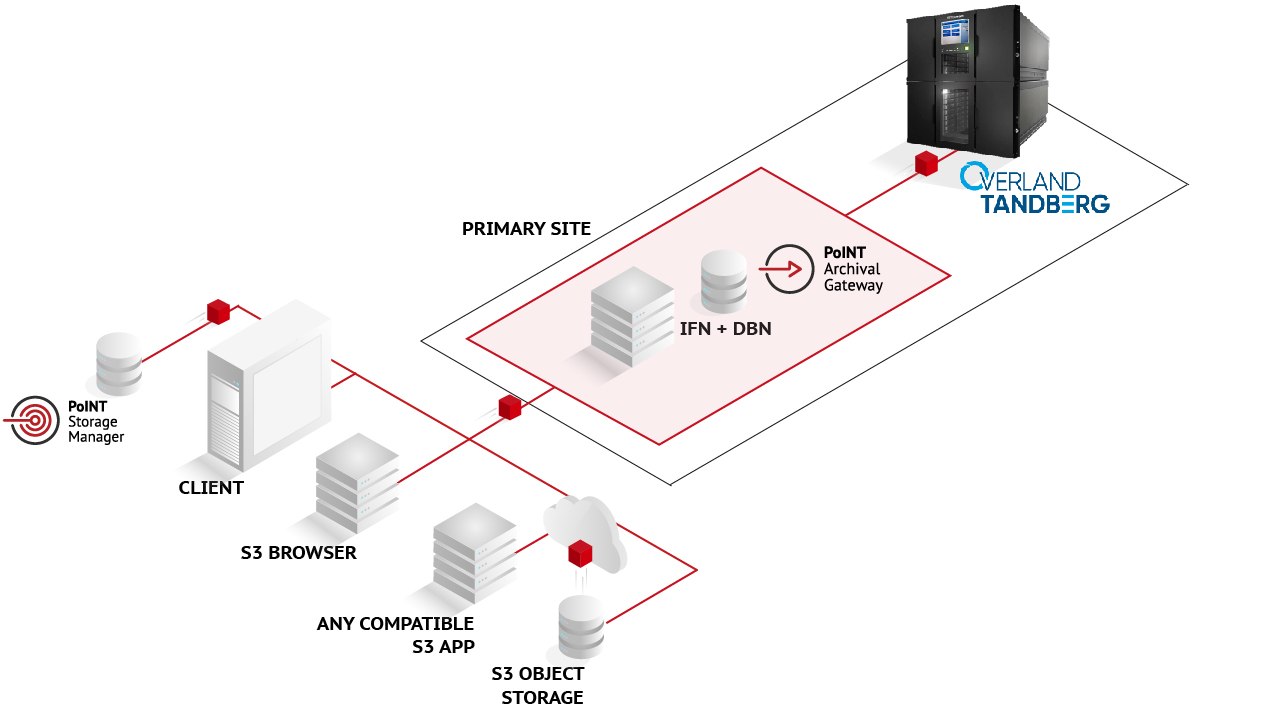 In the object storage sector, data volumes are often in the high PB range. In this context, it is advisable not only to rely on hard disk-based object storage systems for data protection. On the one hand, this data should also be protected by a backup against losses, e.g. due to technical failures or ransomware attacks. On the other hand, increasing data growth storage costs come into focus as data growth continues. This raises the question of cheaper hardware alternatives with a better eco-footprint.
For the reliable and long-term storage of such data volumes, tape offers a particularly secure and cost-efficient storage medium. PoINT Archival Gateway provides a tape-based S3 object storage which allows the seamless integration of Overland-Tandberg NEO Tape Libraries as object store into an existing storage infrastructure.
Solution
The combination of PoINT Archival Gateway and Overland-Tandberg NEO Tape Libraries offers a highly scalable storage solution for small to very large data volumes. PoINT Archival Gateway receives the data directly via the standardized S3 interface and writes them to tape with high performance.

OverlandTandberg NEO Tape Libraries are flexibly scalable in terms of capacity and performance from 216 TB to 40 PB. With PoINT Archival Gateway as tape-based object storage and Overland-Tandberg NEO Tape Libraries, users can sustainably optimize the storage infrastructure and create a future-proof and flexible storage solution for growing amounts of data. Whether as a target storage for big data applications, for archiving or as a backup target for the backup of cloud and object data: PoINT Archival Gateway and Overland-Tandberg NEO Tape Libraries secure digital assets in the long term and cost-effectively.
Functions
Integration of Overland-Tandberg NEO Tape libraries via S3
Read and write performance with at least 1 PB per week
Logical partitioning for workload requirements
Erasure Coding
Advantages
Cost-efficient solution with tape for Big Data, Backup and tiering
Protection of investment and a future proof solution
Flexible scalability in capacity and performance
High write and read performance
The Overland-Tandberg NEO Tape Libraries

NEO Series LTO Libraries are the ultimate solution for the last line of line of defense for data protection and archiving. They offer reliability, offline security, automated backup processes, and the lowest backup processes, and the lowest storage costs, making them the ideal ideal solution for long-term data storage and backup.
OverlandTandberg
Overland-Tandberg is a global technology company that develops and manufactures hybrid cloud IT infrastructure and data protection solutions that enable organizations large and small to securely manage and protect their digital assets. Overland-Tandberg's brands are represented in more than 100 countries and serve the large enterprise markets, small and medium-sized enterprises (SMEs) and small office home Office (SoHo) and have established a global reputation.
PoINT Archival Gateway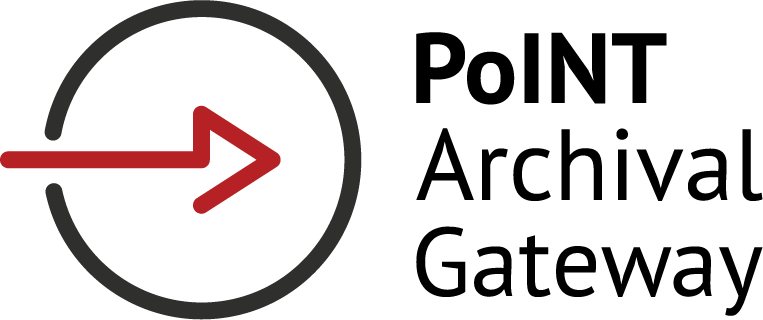 PoINT Archival Gateway is a software-based and high-performance object storage supporting tape libraries. This combination allows to store and archive data volumes in the three-digit petabyte range without any problems. PoINT Archival Gateway receives the data volumes quickly and writes them securely to the tape media. The software solution also ensures that the data can be read again with high performance.
Due to its high scalability PoINT Archival Gateway supports transfer rates of more than 1 PB per day. PoINT Archival Gateway offers a standardized S3 REST API as an interface for applications which need to store data. Thus, the software can be used without any adaptations for the increasing number of applications supporting object-based storage based on S3 REST. The concept of PoINT Archival Gateway abstracts from the used tape storage system, which can be freely selected and exchanged. The highly scalable S3 REST web service of PoINT Archival Gateway provides almost unlimited parallelism and very high data transfer rates.
System stability as well as data security and availability are essential features of PoINT Archival Gateway. Data security is ensured by modern "Erasure Coding" procedures. In this process, data blocks are stored redundantly on several tape media so that there is no loss of data even in case of defective media. The fail-safety of the server systems running PoINT Archival Gateway is realized by redundant server nodes which are automatically managed by PoINT Archival Gateway.