Data and Storage Management with PoINT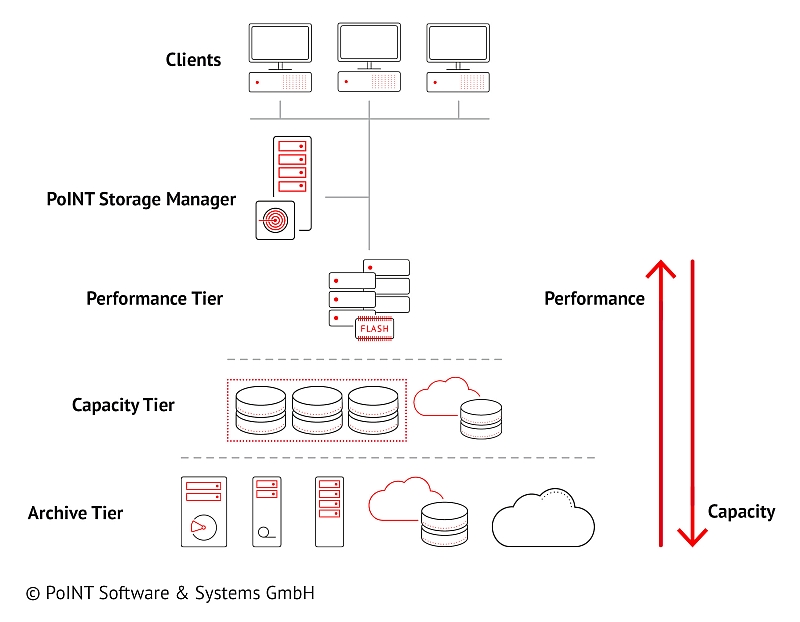 Intelligent storage management for cost-efficient data management and compliant file archival.
The end goal is an optimized storage infrastructure which combines a range of storage technologies with specific properties and associated benefits. The system is optimized in terms of its performance, capacity and cost.
The basic concept starts with a two-dimensional storage hierarchy with three tiers. Based on their specific properties, these are termed the "performance tier", the "capacity tier" and the "archive tier". In this "tiered storage architecture", data can be stored either within the same tier or within another tier. Access to data stored elsewhere remains fundamentally transparent and is achieved through the "performance tier".
While the "performance tier" consists of a storage system optimized for maximum performance, the "capacity tier" is distinguished by its high capacity. The "capacity tier" can therefore be seen as an expansion of the "performance tier".
By contrast, the "archive tier" is designed for archiving. It offers properties which are required for compliance with relevant laws and regulations. The flexible "write once, read many" (WORM) functions of this solution enable both retention management and targeted, time-specific protection of archived data against all kinds of manipulation, meeting businesses' real-world requirements.
Thanks to storage tiering, inactive data (up to 80% of the total data pool) can be transferred to another storage level using predefined rules. This reduces cost-intensive primary storage of inactive data by moving it to more cost-effective secondary storage. Data can also be archived in line with compliance requirements.
With the help of the PoINT Storage Manager – Enterprise Edition, cost-intensive expansions to storage can be avoided and businesses can save up to 60% of their storage costs. The PoINT Storage Manager – Enterprise Edition can also realize a legally compliant archiving system in line with compliance requirements.>>>
And finally – do you know how much data on your storage system is inactive? The PoINT File System Analyzer provides you with a free software tool to shed some light on your primary storage. >>>