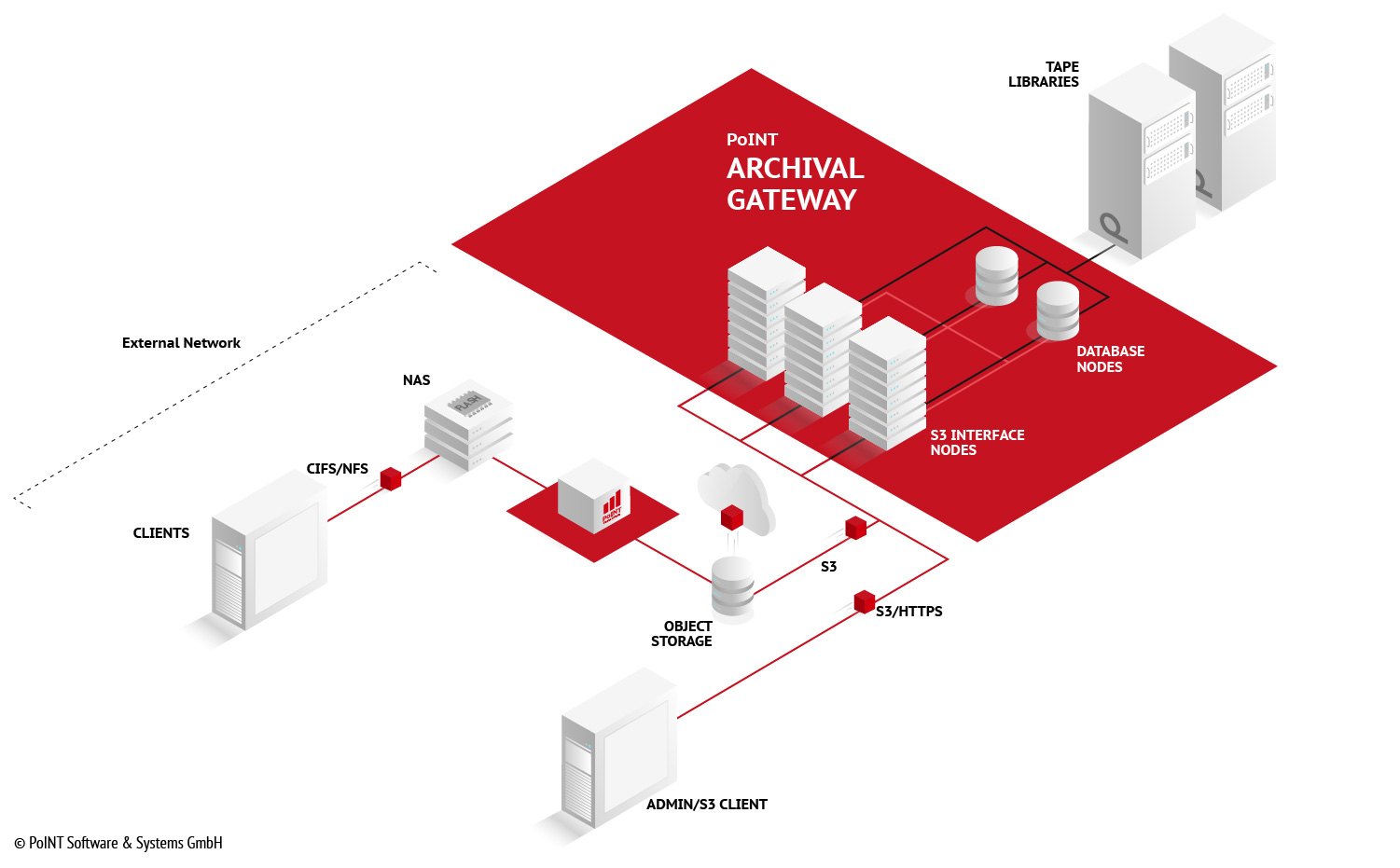 In today's world, data is being generated faster and faster, and in increasingly larger volumes – especially in fields like research, media or diagnostics. The PoINT Archival Gateway, a software product that securely stores large volumes of data on tape storage systems at high transfer rates and in compliance with regulations, solves the resulting problem of storing and archiving all of this data.
High Performance Object Storage
The PoINT Archival Gateway is a software-based, high-performance object storage system and supports tape libraries. This combination makes it possible to store and archive hundreds of petabytes of data. The decisive factor that makes this possible is the way the PoINT Archival Gateway quickly receives data and securely writes it to storage media in a format that means this data can also be quickly read again afterwards. The PoINT Archival Gateway high level of scalability means it can handle transfer rates of over 1 PB per day.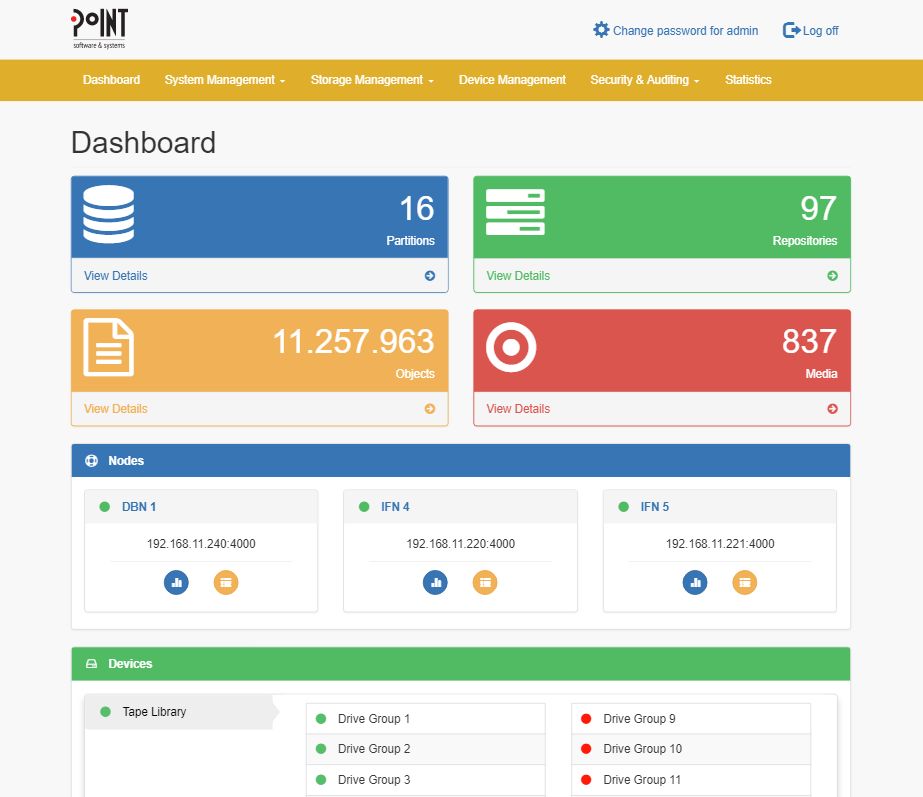 S3 REST API
The PoINT Archival Gateway offers a standardized S3 REST API for applications needing to archive data. This makes the software suitable for use with the rapidly rising number of applications that support object-based storage using S3 REST. The PoINT Archival Gateway's design is independent of the storage technology or system used, meaning that users can choose and swap out such systems with confidence. The PoINT Archival Gateway's highly scalable S3 REST web service enables almost unlimited parallelization and very high data transfer rates.
High Availability
Other key properties of the PoINT Archival Gateway are the system's high stability, as well as its ability to both protect data and keep it available. Data security is ensured thanks to a modern "erasure coding" process. This saves data blocks redundantly on multiple media, meaning that data is not lost even if one medium fails. Redundant server nodes automatically managed by PoINT Archival Gateway mean that the server systems running the PoINT Archival Gateway remain stable.
Properties
Compliance

PoINT Archival Gateway fulfils archiving and compliance requirements thanks to WORM functionality and integrated retention management. As a result, saved data is protected not just against unintended deletion, but also manipulation (e.g. from ransomware attacks).
Data and Mangement Security

The system's approach to data and management security is made possible by user and permission management concept. Access rights can be assigned for these guidelines. To this end, the administrative interface provides functionality for creating local security guidelines for users and groups. The system can also inherit external guidelines from an Active Directory domain.
Tape Libraries

The PoINT Archival Gateway supports a wide range of tape libraries, and PoINT works closely with leading manufacturers. As a result, the list of supported products is being expanded all the time. The PoINT Archival Gateway directly supports and integrates tape libraries. No additional drivers or software products are required.
Benefits and Advantages
The PoINT Archival Gateway's high-performance data transfer means that storage and archiving jobs can be completed very quickly. Saved data can also be accessed quickly when needed. This saves time and therefore money as well.
Tape technology is highly cost-effective when used to save and archive large amounts of data. Compared with hard disk-based systems with comparable capacity, for example, the price per terabyte and the costs of operation in terms of energy requirements are very low. This means that the investment costs are also low, compared with other systems.
The PoINT Archival Gateway is independent of any storage system manufacturer. Users can work with whatever storage system they need without having to make additional modifications to the software. This ensures a high level of protection for your investment and avoids the cost of complex migrations.
The S3 REST interface included with the PoINT Archival Gateway presents a future-proof approach, in contrast to proprietary solutions. This means that your investments are protected.
As well as protecting your data (e.g. against ransomware attacks), the PoINT Archival Gateway's archiving functions also help ensure compliance with laws and regulations. This minimizes the risk of legal disputes and helps meet your compliance requirements.
Technical Information
Target Systems
Here you can find information for the target systems.
System Requirements
Here you can find information for the system requirements.