Events 2022
Events 2021
storage2day
10/27, 11/30, 12/07

It was a pleasure to inform you about our solutions at storage2day! The virtual conference took place again in fall in its tried-and-tested format, on three days, each with a thematic focus:
October 27th: Storage Strategy Day
November 30th: Backup & Storage Security Day
December 07th: Storage Technology Day
You could watch our presentation on November 30th, as part of the Backup & Storage Security Day. Visit the storage2day website for further information on the program.
Data Storage Conference
10/07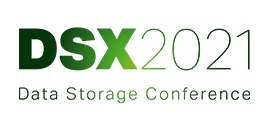 Together with our partner Cloudian, we welcomed you to the Virtual Data Storage Conference on October 7th. Our presentation "With belt and braces: Combining object storage and tape" took place at 11:50.
Information about the conference is available here.
Active Archive Leads the Way in a Mid-Pandemic World
05/13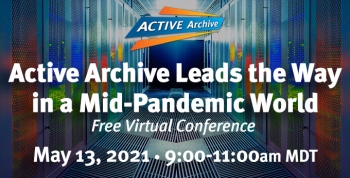 The Active Archive Alliance's virtual conference was dedicated to the concept of the active archive. Alliance members - including PoINT - explained its key benefits and provided information on designing and implementing an active archive for your company or institution.
You can find more information about the conference and recordings here on the Active Archive Alliance website.
storage2day
03/10, 04/20, 05/12
The virtual format of storage2day proved its worth last fall. This spring we informed you about our software solutions at the conference again. You could follow our presentation live on "Storage Architecture Day", May, 12th.
The conference was held on three days, each with a different topic:
03/10: Open Source Storage Day
04/20: Storage Performance Day
05/12: Storage Architecture Day
Information about the conference is available on the storage2day website.
Storage: Under the Sign of Digital Transformation
05/11
"Storage: Under the Sign of Digital Transformation" was the title of the joint digital event organized by speicherguide.de and it management. In our presentation "Cloud/object storage protection under the microscope", we explained what data loss risks come with cloud and object storage. We presented solutions to minimize these risks, to prevent future threats and to guarantee fast data recovery.
You can find more information about the event here.
Webinar with Object Matrix
03/17
In this webinar with our new partner Object Matrix we showed you how to set up an efficient data tiering with PoINT Storage Manager and MatrixStore. We explained how you can benefit the most from MatrixStore's security features, its scalability and flexibility, integrating it as an archive storage with the data management software PoINT Storage Manager.
Channel Live Virtual
03/03 - 03/04
Channel Live took place in spring 2021 as an online platform for exchange and networking. Thank you for visiting us at our virtual booth with our partner Mercia.
Data Storage Virtual Conference
02/24
The digital Data Storage Conference provided information on current developments and new solutions in the areas of enterprise storage and cloud data management. Our presentation focused on the advantages and disadvantages of object storage systems. We showed how to secure object storage against data loss efficiently.
For more information, please contact us at sales@point.de.
Live Demo: Replication and Migration of Files and Objects in S3 Buckets
01/26
If you rely on object storage you are confronted with the question of a suitable security concept for large volumes of data. Our new software product PoINT Data Replicator enables replication and migration of files or objects to a S3 Cloud/Object Storage. Thus, the replication can e.g. be performed as S3-to-S3 object replication between any S3 capable source and target buckets. In our live demo on 26th of January at 4 pm CET we will show you how replication with PoINT Data Replicator works and how our software supports you in implementing hybrid and multi-cloud approaches for data protection.
Events 2020
Webinar: Archiving and protecting S3 objects on tape
11/17
Object storage is highly available due to redundant components, erasure coding and replication. The high availability protects against hard disk failures and up to the failure of complete data center locations. However, there is no protection against accidental or malicious deletion of objects. Only a backup copy protects against data loss. At the same time inactive data consumes cost-intensive storage space.
In our live demo we present PoINT Archival Gateway which is a tape-based S3 object storage. A typical use case is protection and offloading disk-based object storage. We will show you in a few steps how to write objects via S3 API to tape and thus store data extremely cost effective.
data://disrupted 2020
10/13 – 10/15
As a meeting point for providers and users of enterprise data storage solutions, the Storage Forum took place for the first time in 2019 in Leipzig. In 2020 the event was organized as an online conference under the title "data://disrupted". It included three live days and an online platform that was be available for the participants during one year.
In his presentation "Tape-based object storage as S3 storage class and cloud backup" Thomas Thalmann discussed the technical concept and the advantages of a tape-based object storage as a cost-effective backup for growing data volumes on hard disk-based object storage and at cloud service providers.
Webinar: Tape Integrated Object Storage as an Active Archive
10/12
PoINT joined the Active Archive Alliance in June 2020. The Alliance provides vendor neutral information about modern active archiving strategies for growing data volumes.
In the webinar "Tape Integrated Object Storage as an Active Archive" Thomas Thalmann (PoINT), Shawn Brume (IBM) and Rich Gadomsky (FUJIFILM) explain how tape libraries can be integrated as object storage into the storage infrastructure. By means of different use cases, the webinar shows how tape based object storage is suitable for active archiving.
You can view the webinar here on the Active Archive Alliance website.
storage2day - Virtual Conference for Storage Networks and Data Management
09/23, 10/07, 11/12
Storage2day is a conference that addresses IT experts who design and operate storage environments in companies and institutions. Due to the Corona crisis the conference takes place virtually.
You can watch our lecture "Tape-basierter Object-Storage als S3 Speicherklasse und Cloud-Absicherung" on October 7th at 10 a.m. In our presentation we analyze the advantages and use cases of different concepts of S3 storage classes.
The conference itself focuses on three main topics on three days:
Storage Security & Backup Day (23. September)
Storage trends and solutions (07. Oktober)
Ceph Day (12. November)
You can find more information about storage2day here.
How to save and manage large data volumes – speicherguide.de online congress
09/14 - 09/16
In September 20201 speicherguide.de organized its first online congress. Under the heading "How to save and manage large data volumes" participants were offered detailed information and exchange about different storage solutions in moderated presentations and extensive product pitches. Thomas Thalmann from PoINT and organizer Karl Fröhlich discussed tape based S3 object storage as a new method for saving and managing large data volumes.
The presentations are accessible here in the media library of the speicherguide campus.
CLOUD Technology & Services Conference - 09/07 + 09/15
DATA Storage & Analytics Technology Conference - 09/17 + 09/24
In 2020 PoINT exhibited again at the CLOUD Technology & Services Conference and at the DATA Storage & Analytics Technology Conference. In our presentation "Tape-based Object Storage – The storage solution for data volumes in the PB range" we informed about PoINT Archival Gateway. With the help of our software solution, tape libraries can be integrated as S3 object storage to securely archive growing data volumes while keeping data available. You can find further information here.
Events 2019
NetApp Insight Tokyo
12/10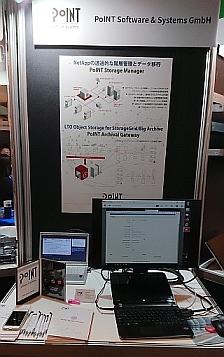 At NetApp INSIGHT in Tokyo, visitors could learn about data management in a hybrid multi-cloud environment. At our booth, our partner Optical Expert showed them how our software can help them facing complex data management tasks.
StorageForum Leipzig
11/28 - 11/29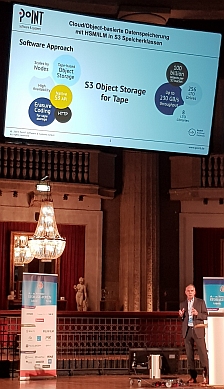 The StorageForum in Leipzig on November 28th and 29th, 2019 focused on topics related to data storage, archiving and backup. It offered lectures, use cases and an exhibition.
Our presentation dealt with the immense growth of inactive and unstructured data. We showed how you can solve this challenge with the help of HSM and ILM in combination with cloud/object-based technologies. Integrating different S3 storage classes and Erasure Coding protected tape storage systems, you benefit in terms of costs, data security and scalability. A video recording of the presentation is available here.
For further information about the StorageForum see here.
Cloud Technology & Services Conference
Bonn, Hanau, Hamburg, Munich

The Cloud Technology & Services Conference took place for the 13th time this year. It focused on the trends of the "Journey to Cloud". Object storage is gaining in importance regarding workloads in analytics, IoT, archiving, Backup and Sync & Share. The increase in use cases leads to an increase in required storage capacity and thus to a rise of complexity and costs. Although most of the data is inactive and does not require the functional benefits of disk-based object storage, they often occupy the best part of the capacity of the systems.
With our partner Quantum we gave a speech about "The Hyperscalers as pioneers – Tape as object storage to extend your cloud", presenting an approach to solve these storage problems by efficiently using different classes of object storage.
DLR - HSM User Konferenz 2019
06/05 - 06/07
NEW! For the first time the HSM User Conference 2019 took place in Neustrelitz. Sure that PoINT as an expert for hierarchical data management software participated as an exhibitor. We presented in our session "Managing storage classes for infrequently accessed data" the flexibility and use cases of our solutions to support the exchange of experience and information of the organizer DLR (Deutsche Zentrum für Luft- und Raumfahrt e.V.). We provided recommendations for strategy and optimization regarding unstructured data and HSM.
CIO VISIONS Leadership Summit
06/02 - 06/04
"Big Data and Analytics" was one of the main topics of the CIO VISIONS Leadership Summit, which took place in Las Vegas from 06/02 to 06/04. Our partner Euroson presented our software to the participants, which is suitable for data management, storage strategies and big data storage.
DATA Storage & Analytics Technology Conference 2019
04/02, 04/30, 05/02 and 05/07

The questions were the same in Hamburg, Hanau, Munich and Cologne: How should I handle unstructured data? How can I fulfill data retention requirements? How do I create a manufacturer-independent storage infrastructure?
We were pleased to advise you at our booth at the roadshow DATA Storage & Analytics Technology Conference 2019 and presented you how to implement all this with our software. Especially, thank you for your interest in our presentation "Cloud/Object-based archiving - a solution for inactive data and legal requirements". To the solution
Security and Policing 2019
03/03 - 03/05
The official government event Security and Policing 2019 addressed all topics related to security and IT requirements for municipalities and public institutions.
Our partner Merica Solutions exhibited our software at the show in Farnborough, England, at booth P23 and informed interested IT managers about the possibly uses cases of PoINT Storage Manager and especially in combination with the Sony PetaSite Libraries.
Events 2018
NetApp Innovation 2019
12/11
NetApp Insight 2018 - Barcelona
12/03 - 12/05
CIO Visions
10/29- 10/30
NetApp Insight 2018 - Las Vegas
10/22 - 10/24
IP EXPO Europe 2018
10/03 -10/04
Storage & Data Analytics Technology Conference 2018
03/22, 04/10, 04/24, 04/26
NetApp Technology Forum Rhein-Main 2018
02/28
On February 28, 2018, the NetApp Technology Forum Rhein-Main took place in the Sparda-Bank-Hessen-Stadion. As an exhibitor and NetApp technology partner of data and storage management we presented our software solutions. These mastering the data growth of unstructured data.