Events 2019
NetApp Insight Tokyo
12/10
At NetApp INSIGHT in Tokyo, visitors can learn about data management in a hybrid multi-cloud environment. At our booth, our partner Optical Expert will show you how our software can help you facing complex data management tasks.
For further information about NetApp INSIGHT Tokyo see here.
StorageForum Leipzig
11/28 - 11/29
We are looking forward to being at the StorageForum in Leipzig on November 28th and 29th, 2019! The event focuses on topics related to data storage, archiving and backup. It offers lectures, use cases and an exhibition.
Our presentation deals with the immense growth of inactive and unstructured data. We will show you how you can solve this challenge with the help of HSM and ILM in combination with cloud/object-based technologies. Integrating different S3 storage classes and Erasure Coding protected tape storage systems, you benefit in terms of costs, data security and scalability.
For further information about the StorageForum see here.
Cloud Technology & Services Conference
Bonn, Hanau, Hamburg, Munich
The Cloud Technology & Services Conference took place for the 13th time this year. It focused on the trends of the "Journey to Cloud". Object storage is gaining in importance regarding workloads in analytics, IoT, archiving, Backup and Sync & Share. The increase in use cases leads to an increase in required storage capacity and thus to a rise of complexity and costs. Although most of the data is inactive and does not require the functional benefits of disk-based object storage, they often occupy the best part of the capacity of the systems.
With our partner Quantum we gave a speech about "The Hyperscalers as pioneers – Tape as object storage to extend your cloud", presenting an approach to solve these storage problems by efficiently using different classes of object storage.
DLR - HSM User Konferenz 2019
06/05 - 06/07
NEW! For the first time the HSM User Conference 2019 took place in Neustrelitz. Sure that PoINT as an expert for hierarchical data management software participated as an exhibitor. We presented in our session "Managing storage classes for infrequently accessed data" the flexibility and use cases of our solutions to support the exchange of experience and information of the organizer DLR (Deutsche Zentrum für Luft- und Raumfahrt e.V.). We provided recommendations for strategy and optimization regarding unstructured data and HSM.
CIO VISIONS Leadership Summit
06/02 - 06/04
"Big Data and Analytics" was one of the main topics of the CIO VISIONS Leadership Summit, which took place in Las Vegas from 06/02 to 06/04. Our partner Euroson presented our software to the participants, which is suitable for data management, storage strategies and big data storage.
DATA Storage & Analytics Technology Conference 2019
04/02, 04/30, 05/02 and 05/07

The questions were the same in Hamburg, Hanau, Munich and Cologne: How should I handle unstructured data? How can I fulfill data retention requirements? How do I create a manufacturer-independent storage infrastructure?
We were pleased to advise you at our booth at the roadshow DATA Storage & Analytics Technology Conference 2019 and presented you how to implement all this with our software. Especially, thank you for your interest in our presentation "Cloud/Object-based archiving - a solution for inactive data and legal requirements". To the solution
Security and Policing 2019
03/03 - 03/05
The official government event Security and Policing 2019 addressed all topics related to security and IT requirements for municipalities and public institutions.
Our partner Merica Solutions exhibited our software at the show in Farnborough, England, at booth P23 and informed interested IT managers about the possibly uses cases of PoINT Storage Manager and especially in combination with the Sony PetaSite Libraries.
Events 2018
NetApp Innovation 2019
12/11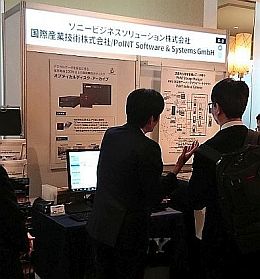 The fair NetApp Innovation 2019 in Japan was a complete success for PoINT. Our partners Optical Expert and Sony Business Solutions were pleased about the lively activity at the booth. Especially the innovative common optical library solution in combination with PoINT's software was of great interest. If you want more information please contact us.
NetApp Insight 2018 - Barcelona
12/03 - 12/05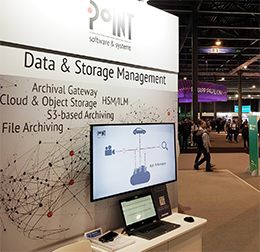 The close partnership between PoINT and NetApp was once again evident at NetApp Insight in Barcelona this year. In addition to discussions with common customers and partners, the fair once again offered much possibilities for the exchange of information. Visitors at the PoINT booth not only showed interest in the new features of version 6.3 of the PoINT Storage Manager, but were also able to see the new product PoINT Archival Gateway live. The new solution, which realizes "S3-based Archiving", received a lot of attention and was also mentioned in the NetApp sessions.
CIO Visions
10/29- 10/30

From October 29-30, 2018, the CIO Visions Leadership Summit & Exhibition took place in Chicago. CIOs, CTOs and CISOs, in short all IT managers, were able to inquire about new solutions on the market. The topics of data management and storage strategies had to be present. Visitors were particularly interested in our software solution for analyzing primary storage data, because they were able to determine how much inactive data overloads the expensive storage systems and how much money they could save by automated tiering and archiving.
NetApp Insight 2018 - Las Vegas
10/22 - 10/24
As a NetApp Certified Partner, we informed visitors at the NetApp Insight 2018 in Las Vegas how to handle unstructured data with PoINT and NetApp products. Software products of PoINT extend the NetApp portfolio in HSM / ILM, archiving, integration of different storage technologies and management of very large amounts of data. You were not there? Here you can request additional information.
IP EXPO Europe 2018
10/03 -10/04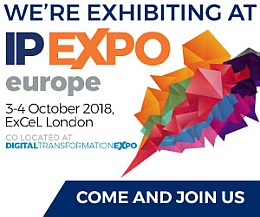 Efficient storage and data management strategies were the themes at the IP EXPO Europe 2018 at ExCeL in London. We think: PoINT Storage Manager, our software for storage and data management, is the perfect solution to handle data growth while transparently integrating archive storage. For this reason, we presented this solution at the fair together with our partners Mercia Solutions and Sony and we would like to thank for the numerous visitors at our booth.
Storage & Data Analytics Technology Conference 2018
03/22, 04/10, 04/24, 04/26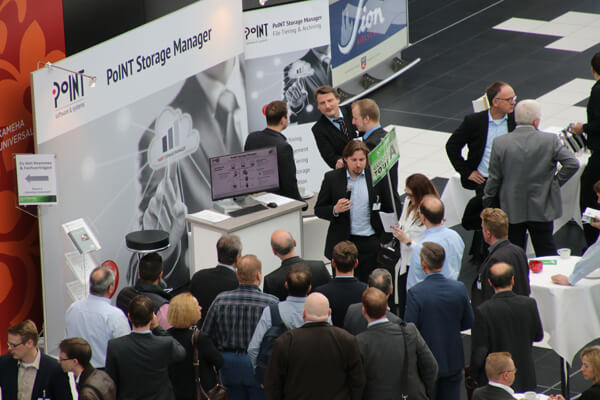 80 percent inactive unstructured data! What to do? This is what we clarified in our workshop at the Storage & Data Analytics Technology Conference 2018.
We are also happy to advise you later. Contact us.
22. März Stuttgart
10. April Hamburg
24. April Wiesbaden
26. April Köln

Information about the conference can be found here.
NetApp Technology Forum Rhein-Main 2018
02/28
On February 28, 2018, the NetApp Technology Forum Rhein-Main took place in the Sparda-Bank-Hessen-Stadion. As an exhibitor and NetApp technology partner of data and storage management we presented our software solutions. These mastering the data growth of unstructured data.
Events 2017
NetApp Insight 2017

This year we informed the visitors of NetApp Insight how they can handle the data growth with our solutions. Special interest was given to our new product developments.

More information about our leading product: www.point.de
More information about the fair: www.NetApp-Insight.com
NetApp Technology Forum 2017

On 13th of July the NetApp Technology Forum Bavaria 2017 took place at the WWK Arena in Augsburg.
Beside "Next Generation Data Center" and "Hyper Converged Infrastructure" was "Hybrid Cloud" the main topic of the forum. We explained to the interested visitors the opportunities for a simple and uncomplicated way into their own hybrid storage infrastructure with NetApp and PoINT.
CeBIT 2017

PoINT was present at the CeBIT (March 20th – 24th) in Hannover again. Together with our long-term partner INCOM Storage GmbH we have exhibited in hall 3 (booth F36).
We have presented our product innovations and systems solutions for storage, management and long-term archiving of data.
Storage Technology Conference 2017 (German Only)

Auch 2017 waren wir wieder als Partner auf der Storage Technology Conference vertreten.
In unserem Vortrag "Kundenbeispiele: Erfolgreicher Einsatz von Data- und Storage-Management Software" während der Storage Technology Conference erläuterten wir das Konzept unserer unabhängigen Management-Software PoINT Storage Manager, die Probleme löst, die durch Wachstum unstrukturierter Daten verursacht werden und Archivierungsanforderungen erfüllt. Anhand von zwei Kundeninstallationen zeigten wir exemplarisch, wie die Herausforderungen der Kunden mit dem Lösungsansatz der Software erfolgreich umgesetzt wurden. Besucher des Vortrags erhielten wertvolle Anregungen und Hilfestellungen, wie Probleme in der eigenen Speicherinfrastruktur gelöst werden können.
Wir haben uns sehr über die zahlreiche Teilnahme in unseren Vorträgen sowie die vielen Interessenten am Stand gefreut.
Die Storage Technology Conference hat an folgenden Terminen stattgefunden:
11. April - Hamburg
24. April - Bonn
02. Mai - Frankfurt a.M.
10. Mai - München

Weitere Informationen zur Veranstaltung finden Sie unter www.storage-conference.de.
Events 2016
Events 2015
CeBIT 2015 - Hannover

This year we exhibited at CeBIT (March 16 to 20, 2015 in Hanover) together with our new partner DTS Systeme GmbH.
During a visit at booth E18 in Hall 6 and we demonstrated the latest PoINT novelties. Especially we wanted to point out the latest version of PoINT Storage Manager – our data management solution for file tiering and archiving.
In addition our solutions were demonstrated at the booth of our partner INCOM Storage GmbH in Hall 3 (Booth F36).
Vogel IT Storage Technology Conference 2015

This year we participated again at the Storage Technology Conference of the German publishing company Vogel IT.
The dates were as follows:
April 21, 2015 Hamburg | April 23, 2015 Neuss
April 28, 2015 Munich | April 30, 2015 Frankfurt a.M.
For the first time we demonstrated our data management and archiving solution PoINT Storage Manager in a workshop titled "Active Archive - Cloud Storage in practical"
Topics
• Seamless cloud storage integration - on-premise / off-premise
• Off-loading primary storage by file tiering and archiving to the cloud
• Manufacturer and technology-independent by management-software
he workshop took place at 10:50 am at each event date.
Further information can be found at www.storage-conference.de.
NetApp Insight Las Vegas

This year we participated for the first time at the NetApp partner event in Las Vegas, taking place from October 12 th to 15 th.
Further information can be found at www.netapp-insight.com.
Cloud Expo Europe 2015

The event Cloud Expo Europe took place from November 10 th to 11 th in Frankfurt. During a visit at our booth (no. 608) we informed you about all our product novelties.
Further information can be found at www.techweekfrankfurt.de.
NetApp Insight 2015 Berlin

The European NetApp partner event took place in Berlin from November 16th to November 19th. PoINT joined this event and showed PoINT Storage Manager and new features at the PoINT booth.