PoINT Storage Manager
The Data & Storage Management solution for migration and archiving of unstructured data to secondary and archive storage in a tiered storage architecture. PoINT Storage Manager is independent of specific storage system manufacturers or technologies. This creates flexibility and investment protection.
PoINT Archival Gateway
The software solution for storing and archiving huge amounts of data on tape media. PoINT Archival Gateway is a scalable tape-based S3 Object Storage. The software is highly performant and supports all standard tape libraries.


PoINT LIVE

With our webinars we would like to present you our software solutions not product- but topic-oriented.
On August 18th at 4pm CET: "Intelligent and Transparent File Archiving" Register here
On September 2nd at 4 pm CET: "How secure is an Object Storage?" Register here
On October 6th at 4pm CET: "Centralized Long-Term Archiving" Register here
We look forward to your participation!
PoINT Software & Systems joins the Active Archive Alliance
PoINT Software & Systems has joined the Active Archive Alliance.
The Alliance serves as a vendor-neutral, trusted source for providing end-users with technical expertise and guidance to design and implement modern active archive strategies that solve data growth challenges through intelligent data management.
"We are pleased to be a part of the Active Archive Alliance and looking forward to present our solutions to interested customers." Sebastian Klee - CMO
Read more here.
PoINT Archival Gateway supports IBM Jaguar drives
Version 2.1 of the tape-based S3 Object Storage software solution PoINT Archival Gateway now also supports the IBM Libraries TS3500/TS4500 with LTO drives as well as with the models of the IBM 3592 series. Read more here.
How to archive highly sensitive patient data securely

Long-term archiving of medical data requires special attention: first, it is highly sensitive and personal patient data. Additionally, medical documents are often subject to very long retention periods. Certain data must be archived securely for up to 30 years, and at the same time it must be easily retrievable at any time.
PoINT Storage Manager meets the high demands on legally compliant archiving of patient data. With Retention Management and WORM protection for archived files, our software ensures that the data is stored securely and unchanged for the specified period. At the same time, users can access the archived data as usual. Learn more about archiving with PoINT Storage Manager here.
PoINT Storage Manager: Highest flexibility for access to archived files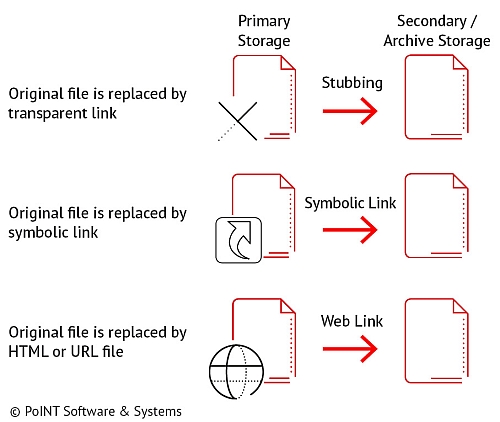 When archiving files, reliability in moving files within a hierarchical storage infrastructure is just as critical as the transparent and flexible access to the archived files. Therefore, PoINT added a new method of access to archived files to its PoINT Storage Manager. In addition to the proven stubs and web-links with browser-based access, the so-called symbolic links now offer a solution which can be used with practically all NAS systems.
More information about PoINT Storage Manager can be found here on our website.
ReiseBank AG: Future-proof storage infrastructure with PoINT Storage Manager
By archiving cold data efficiently and automatically with PoINT Storage Manager, ReiseBank AG is noticeably reducing primary storage loads and backup volume. The new storage infrastructure is both future-proof and flexible. "We are especially relaxed about rising data volumes now," says Hans Hohenwarter, head of system operations at ReiseBank AG. "The PoINT Storage Manager has us well equipped for the future and we can counter the rising costs, too."
PoINT celebrates its 25th anniversary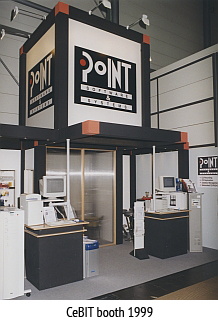 The history of PoINT begins as early as 1985, where the PoINT-team-to-be came together first at Philips' competence centre for optical storage media, then later at Digital Equipment (DEC) GmbH.
Here, the team were already developing innovative software products for archiving data on optical storage media, making a significant contribution towards the standardisation of optical technology. In 1994, PoINT spun off from Digital Equipment.
From 5 December 1994, it continued under the leadership of its key employees as an independent company, PoINT Software & Systems GmbH. PoINT stands for innovative, stable software; for a focus on our customers; and for reliable service.
Thank you for your loyalty! We look forward to many more years of forward-looking storage products and designs.
Up-to-date Technical White Paper ready for download

PoINT Storage Manager and PoINT Archival Gateway present themselves in a new guise: The new Technical White Papers are now available, with a fresh design, succinct information and clear illustrations.

You find the White Paper for PoINT Storage Manager here and the White Paper for PoINT Archival Gateway here.
Newsletter
Partner