Data is generated faster and faster and in ever larger quantities, e.g., in research, in the media sector or in diagnostics. Our software PoINT Archival Gateway solves the problem of storage and archiving. It stores large amounts of data with high transfer rates directly and securely on tape storage systems.
Tape-based S3 Object Storage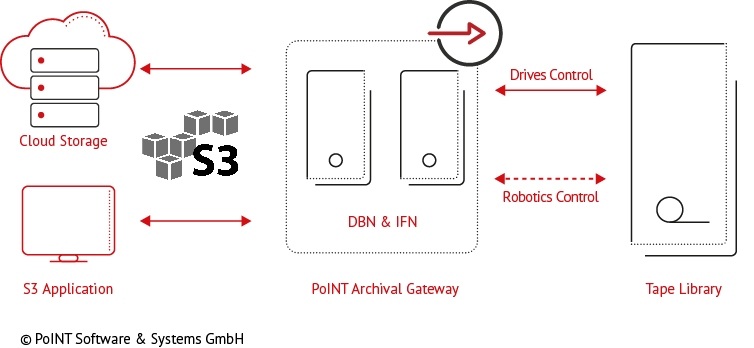 PoINT Archival Gateway is a software-based and high-performance object storage which supports tape libraries as archive storage. In this combination, data volumes in the three-digit petabyte range can be archived without any problems. The decisive factor is that PoINT Archival Gateway receives the data volumes quickly and writes them securely to the tape media. The data can be read again with high performance. Due to its high scalability PoINT Archival Gateway supports transfer rates of more than 1 PB per day.
S3 REST API

As an interface for applications that need to archive data, PoINT Archival Gateway provides a standardized S3 REST API. Thus, the software can be used without any adaptations for the strongly increasing number of applications supporting object-based storage based on S3 REST. The concept of PoINT Archival Gateway abstracts from the used tape storage systems which are freely selectable and exchangeable. The highly scalable S3 REST web service of PoINT Archival Gateway provides almost unlimited parallelism and very high data transfer rates.
PoINT Archival Gateway writes object data directly to the tape media and does not require buffer hard disks. Therefore, cumbersome S3 Glacier commands for reading the archived data are not necessary.
Compliance and protection against ransomware
With the help of WORM functionality and integrated retention management PoINT Archival Gateway fulfills archiving and compliance requirements. This secures the data not only against unintentional deletion, but also against intentional changes (e.g. by ransomware attacks).
PoINT Archival Gateway enables long-term data management to fulfill legal and corporate archiving requirements. Thus, appropriate retention rules can be activated on the level of an object repository. These rules define how and when existing objects may be modified or deleted.
Properties
S3 compatible REST API
Archiving directly to tape media
Data protection through erasure coding
Object locking and retention management
Encryption
Benefits and Advantages
Fulfillment of archiving and compliance requirements
Manufacturer independence with regard to the storage system
Low operating and energy costs
Security against ransomware attacks
Investment protection through standards
Technical Information
Target Systems
Here you can find information for the target systems.
System Requirements
Here you can find information for the system requirements.