Press Releases 2021
Broadcaster BRF archives media data securely and transparently with PoINT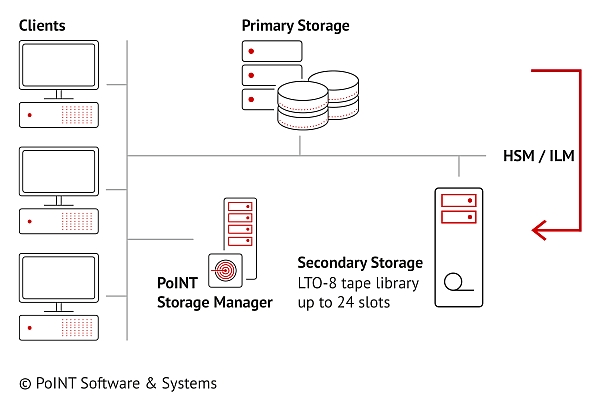 Siegen. The Belgian Broadcasting Corporation of the German-speaking Community (Belgischer Rundfunk, BRF) is working with PoINT to digitize old recordings. The PoINT Storage Manager securely and cost-effectively archives media files on tape, guaranteeing fast and transparent access to data.
BRF aims to gradually digitize older recordings stored on various analog tape-based media. This is resulting in the creation of audio and video files in a range of formats and sizes, from a few megabytes to hundreds of gigabytes. It quickly became clear that it was impossible to archive all of this data on hard-disk drives alone; instead, BRF needed a more cost-effective solution.
The company therefore decided to archive on digital tape with the help of PoINT Storage Manager. PoINT's software integrates an LTO-8 tape library seamlessly into BRF's existing storage infrastructure to serve as an archive storage system. Using a two-tier, hierarchical approach to storage management, the PoINT Storage Manager automatically archives data to tape. Editors use the primary storage format's file system to access archived content, meaning that they can quickly and transparently access old audio and video recordings and use them in new reports.
"PoINT's software meets all of our requirements, and it was the most cost-effective option," said Marc Schiffler, head of production and technology. "The data is saved in a non-proprietary format, and the system is fully transparent for the applications used to access the files. It does exactly what we need while still being easy to use."
Tape-based archive storage is reliably scalable, so BRF stands ready to deal with the constantly rising volume of data in its archive. Archiving on tape improves data protection and ensures that files are available even if other tiers of the storage infrastructure experience outages.
About Belgischer Rundfunk:
The abbreviation BRF stands for Europe's smallest public service broadcaster. With around 70 employees the Belgian Broadcasting Corporation of the German-speaking Community is based in Eupen and has studios in Brussels and St. Vith. It offers three radio channels, one television channel and an internet portal. The Belgian Broadcasting is the public service broadcaster of the German-speaking Community of Belgium and thus has a corresponding mission to accomplish. It sees itself as a medium that primarily has to inform: for and about the German-speaking Community, about Belgium, the Euregio, but also about international events.
PostFinance AG achieves additional data protection with PoINT Archival Gateway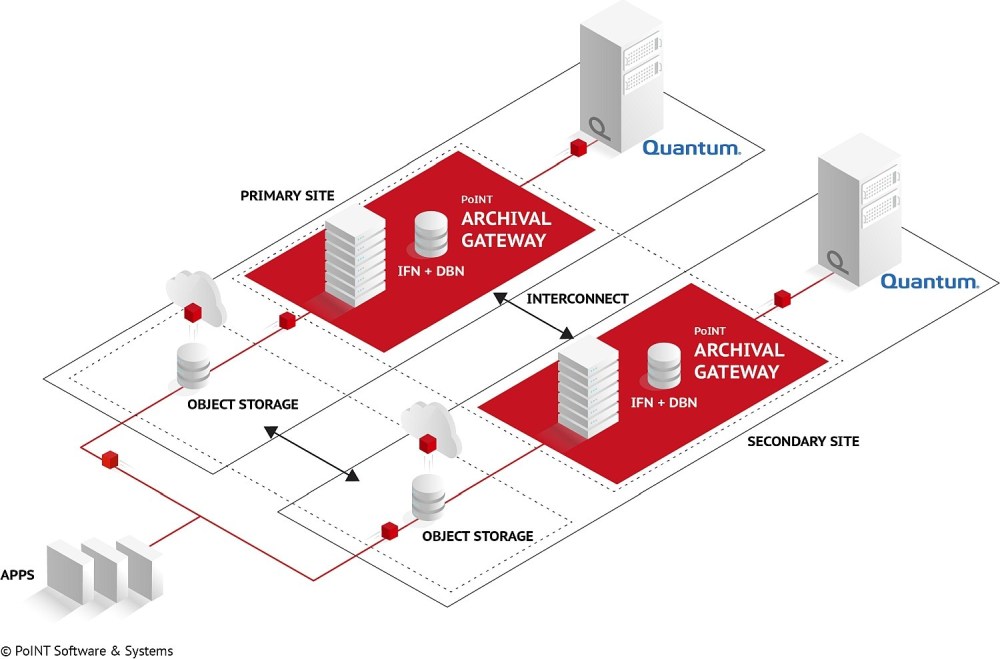 Siegen. The Swiss financial institution PostFinance AG is protecting valuable object-based data by automatically replicating it using the PoINT Archival Gateway. The PoINT Archival Gateway makes it possible to integrate tape as a cost-effective S3 storage class. With this high-performance and highly scalable storage solution, the financial institution achieves additional data protection. Even better, all of this was accomplished without having to restructure the existing storage infrastructure.
PostFinance AG needed a way to better protect the constantly rising volumes of data on its object storage systems. Specifically, it needed an independent copy of the data, to guard against malware and human error. Such a system needed to be as cost-efficient as possible, however.
In the end, PostFinance AG settled on automatic data replication with the PoINT Archival Gateway. This high-performance software-based object storage system saves large volumes of data on tape, enabling seamless integration of this cost-effective storage medium (which is available even when offline) via a standard S3 interface.
PostFinance AG has a Quantum i6 tape library at each of two independent locations. The PoINT Archival Gateway receives copies of the data from the existing hard-disk based object storage system and saves them redundantly to both tape libraries. If access to the backup copies is needed, it is done via the S3 API. And the tape libraries' storage capacity can easily be scaled up as needed.
Andreas Christen, of the Technology & Information Center Infrastructure Data department, is very satisfied with how PoINT's software is now being used: "With the PoINT Archival Gateway, we are replicating our archive data on tape, improving our data security. In the first three months, we backed up around 20 million objects in this way. Thanks to the standard interface, we can easily integrate the PoINT Archival Gateway into our existing storage infrastructure. By using tape as an additional S3 storage class, we have been able to massively improve our security design."
The PoINT Archival Gateway now acts as a reliable data security solution for PostFinance AG. Now that it replicates object data to an offline storage medium, the company's data is more secure than ever. There was no need to restructure its existing storage architecture, and the solution's standard interface means employee workflows proceed in just the same way as before.
About PostFinance AG:
PostFinance is one of Switzerland's leading financial institutions, acting as a reliable partner for over 3 million people, both private and business customers, who want to manage their finances independently.
Object Matrix and PoINT Software & Systems Partner for Efficient Data Tiering

January 2020, Siegen, Germany and Cardiff, Wales: Object Matrix and PoINT Software & Systems have partnered to enable efficient lifecycle management with MatrixStore.
The combination of MatrixStore, the object storage solution for the media industry, with PoINTs Storage Manager enables media companies to manage their storage, ensuring that capacity is used as efficiently as possible. PoINT Storage Manager easily identifies inactive data which can be automatically migrated to MatrixStore, reducing the load on expensive primary storage. At the same time, customers maintain fast and easy access to their entire archive.
The MatrixStore object storage platform is extremely secure, tightly integrated to many media platforms, cost effective for low and high volumes of media and comes with no hidden costs or additional charges to access your data. The company's cloud offering, MatrixStore Cloud, offers the benefits and functionality experienced by organisations using frequent access tiers of public cloud storage at pricing levels that are comparable with archive tiers but without the egress fees or un-predictable costs.
Sebastian Klee, CMO, PoINT Software & Systems, commented: "The combination of the established products MatrixStore and PoINT Storage Manager offers a seamlessly coordinated cross-industry solution for modern workflows. Users benefit from the flexible and transparent access possibilities of PoINT Storage Manager, coupled with the integrated security mechanisms of MatrixStore."
Jonathan Morgan, CEO, Object Matrix, said: "Integrating with PoINT Storage Manager gives our users greater control over their entire archive, enabling files to be archived and tiered efficiently. Ultimately, this means they can easily optimise storage resources and maximise the cost efficiencies that come with storing more content in MatrixStore."
Press Releases 2020
Press Releases 2019
Press Releases 2018
Press Releases 2017
EU GDPR? PoINT Storage Manager 6.1!

Siegen. Businesses that are not yet ready for the EU's new General Data Protection Regulations (EU GDPR) can now relax: version 6.1 of the PoINT Storage Manager is here and will help you to implement the regulations coming into force on May 25, 2018.
In line with the upcoming regulations, companies holding European citizens' personal data must delete such data on request. PoINT Storage Manager 6.1 enables not just logical but also physical deletion. "This makes it possible to delete files in a targeted manner where required. On the other hand, if the files need to be kept, they must be suitably protected. PoINT's software offers this protection via retention management and WORM functionality, fulfilling compliance requirements and preventing unintended changes or manipulation," said Thomas Thalmann, CEO of PoINT Software & Systems GmbH.
The functionality of the PoINT Storage Manager helps businesses not just meet data protection regulations but also optimize their use of storage.
As well as the functions named above, version 6.1 also supports a wider range of storage systems, which now includes SUSE Enterprise Storage, IBM COS and Sony ODA.
Landwirtschaftsverlag Münster optimizes its storage environment

Siegen. Commercial data volumes are rising by the day – but adding storage capacity costs money. This was exactly the issue facing the agricultural publisher Landwirtschaftsverlag Münster. In order to break out of this vicious cycle, the media firm implemented a new data storage plan: instead of expanding its existing storage environment, it implemented a multi-tiered storage architecture based on intelligent data and storage management. The solution automatically differentiates between active and inactive data – and stores it according to its intended use in tiers of differencing performance levels. Landwirtschaftsverlag Münster chose the PoINT Storage Manager from PoINT Software & Systems GmbH to realize this concept, while the implementation partner for the project was ICSmedia GmbH, which had supported the publishing house with IT services for many years.

Around 15 terabytes of highly available data is located on Landwirtschaftsverlag Münster's file servers; it had previously been distributed across two mirrored NetApp storage systems. The constantly rising data volumes required more and more storage space. Expanding the mirrored cluster storage system initially appeared to be the only way out – but it was an expensive option. Looking for an alternative, the company received a decisive tip-off from ICSmedia GmbH: "We recommended that Landwirtschaftsverlag Münster examine how its existing data was being used. Was all of it really in active use? And did it actually need to be kept in mirrored primary storage?" said Johann Miske, the relevant sales associate at ICSmedia GmbH, as he explained the process.
Over the course of this further analysis, it became clear that primary storage alone was not in fact necessary. "With the PoINT Storage Manager, we could therefore provide a suitable solution enabling rules-based storage on a capacity-oriented NetApp FAS SATA shelf without changing how employees accessed the data. This allowed the optimization of existing storage systems."
That really caught everyone's interest! Landwirtschaftsverlag Münster placed the solution under the microscope with a detailed three-month test phase. "With the PoINT Storage Manager, we realized a range of scenarios in which our data was distributed according to this storage plan," said Thorsten Schmidt, vice-head of IT at Landwirtschaftsverlag Münster, adding, "The storage process remains transparent at all times, meaning data is always directly accessible." After just a few weeks, the data and storage management software was therefore awarded the contract. Since then, Landwirtschaftsverlag Münster has been able to make significantly more efficient use of its existing capacity and save the investments in storage which it had originally planned to make.
Inactive data is moved to the lower storage tier according to a rules-driven process. Specifically, the management software includes a setting which automatically moves data older than three months from primary to secondary storage. All of this was achieved with a relatively low investment cost: "Adopting the PoINT Storage Manager costs us significantly less, including over the long term, than purchasing more mirrored primary storage," said Thorsten Schmidt, summarizing the results.
In implementing the new storage solution, the agricultural publisher is also sowing the seeds for the future. If the existing volumes prove no longer to be sufficient at some point down the line, the company can move its data to ICSmedia's data center, where it will be available in the cloud.
About Landwirtschaftsverlag Münster:
Landwirtschaftsverlag Münster is one of the 100 largest media companies in Germany, with approximately 600 employees located both in the country and abroad. The firm publishes magazines, books and new media for the agricultural and rural sectors; with a total of 30 specialist and general-interest titles, it is the leading specialist agrarian publisher in Europe.
About ICSmedia GmbH:
ICSmedia GmbH, a member of the DTS Group, is an established IT service provider focusing on the fields of data centers, security and technology. The company maintains three of its own data centers in Germany and has many years of technical know-how as well as extensive expertise in security.
On the safe side - PoINT Storage Manager Version 6.0 with retention management meets archiving standards

Siegen. PoINT Software & Systems GmbH has released version 6.0 of its data and storage management software. The new release focuses in particular on retention management functions which allow users to securely store and manage their data. The PoINT Storage Manager therefore helps users to implement all aspects of compliance guidelines.

PoINT Storage Manager allows users to make use of their storage systems within a tiered storage architecture, saving resources. Inactive data are rule-based moved from expensive primary storage to more cost-effective secondary storage within a lower tier. Thanks to the retention management features added in version 6.0, in combination with WORM functionality, the software meets all compliance standards for archiving. The archiving rules are configured within a storage vault, where users can define retention periods for specific folders or subjects. This provides them with the flexibility needed to meet the needs and specifications of individual workflows. Once the retention period expires – at the end of the file's life cycle, in other words – the file can be marked by an administrator for deletion.
In addition to the software's retention management functions, Version 6.0 of PoINT Storage Manager allows IT administrators to mark and delete archived data with previously deleted links (so-called "stubs") in performance tier. This can be done rule-based at pre-defined intervals. The functionality for versioning of archived data has also been expanded, allowing users to specify how many versions of an archived file should be saved.