PoINT Jukebox Manager
Optical jukebox systems are designed for long-term archiving of electronically generated documents and are therefore utmost convenient to match legal storage regulations. PoINT Jukebox Manager provides quick and easy integration of optical jukeboxes into existing IT infrastructures by a standardized software interface. Thus, applications and users can utilize the optical jukebox storage similarly to hard disk systems.
Transparent File System Access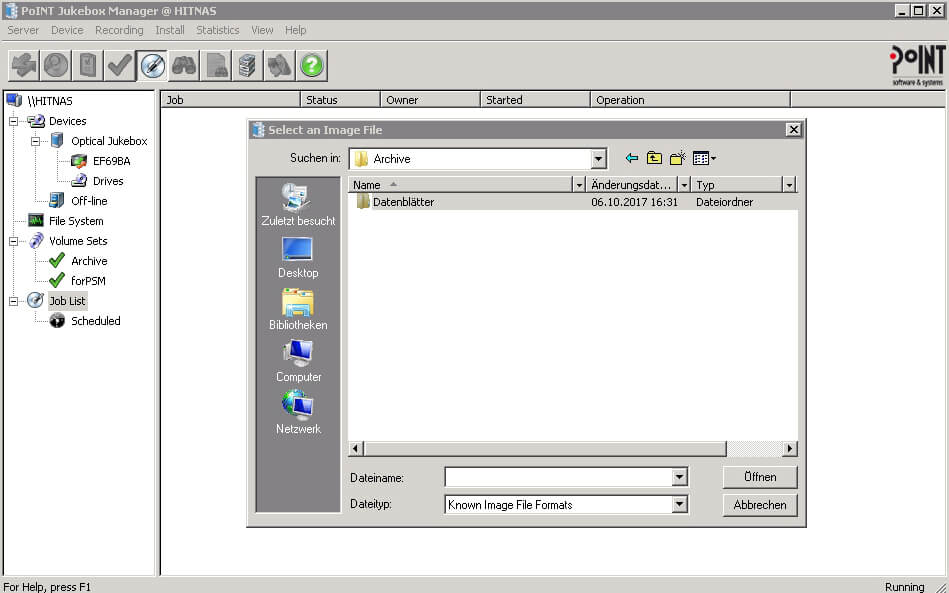 PoINT Jukebox Manager provides a native Windows file system on the Windows server representing the optical jukebox. This file system or even single sub directories (including required access permissions) can be enabled within the local area network as CIFS share.
The tandardized file system (UDF) used by PoINT Jukebox Manager can be read by almost all current operating systems (Windows, Linux, UNIX). In addition, the "File System Plug-In" option allows the integration of media generated with software products of other manufacturers in a proprietary file system format. A storage system based on PoINT Jukebox Manager is independent of software and hardware manufacturers and therefore offers a comprehensive protection of your investment.
Thanks to PoINT Jukebox Manager, the integration of optical storage into an existing IT infrastructure is a simple and straightforward process. A drive letter is generated on the jukebox server, representing the complex storage hierarchy. The complete file system or single subdirectories can be shared independently through the network by using the standard Windows sharing and permission mechanisms.
Even specific requirements of dedicated applications can be fulfilled by PoINT Jukebox Manager. The straight forward integration and perfect interaction of this solution are approved by the corresponding manufacturers' certificates.
Off-line Media Management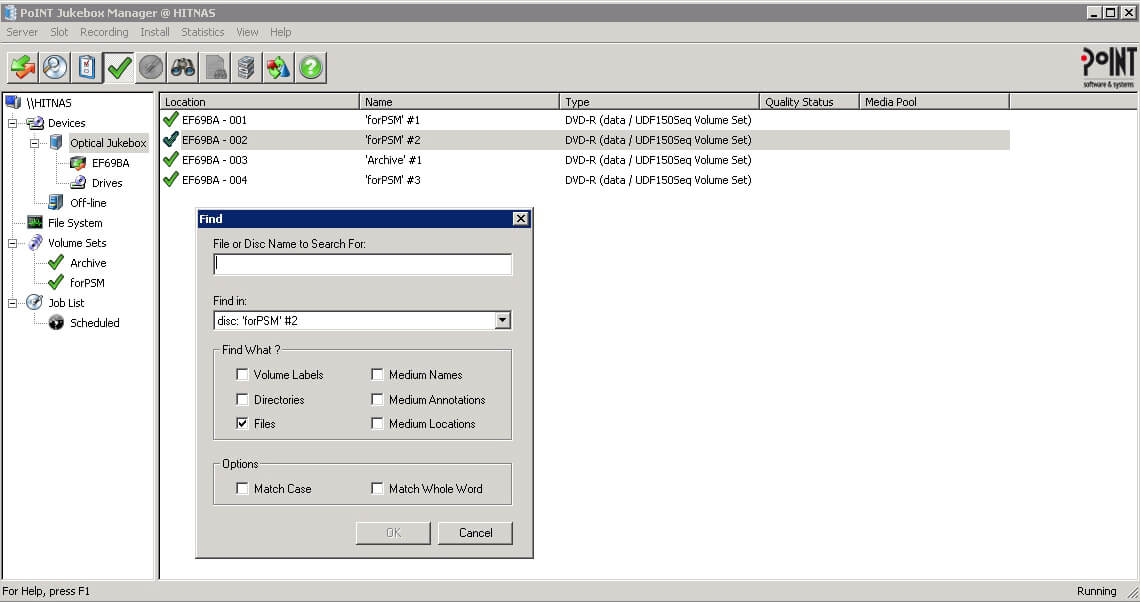 Off-line media are managed in the internal database of PoINT Jukebox Manager. Therefore, archived data can be localized on corresponding media by the administrator anytime. The integrated search function supports retrieval of files and file versions.
The cost of energy caused by an optical jukebox in contrast to hard disk systems is significantly lower, e.g. archiving of data on optical media saves money in terms of energy expenses.
Using optical discs provides easy copying and safe storage of data media at different places. Thereby, the risk of data losses can be reduced essentially.
Enhanced Functionality
In addition to the above mentioned functions we offer the following optional functions:
Optimized Performance by Configurable Caching

Media quality check

Automated Mirroring and Clustering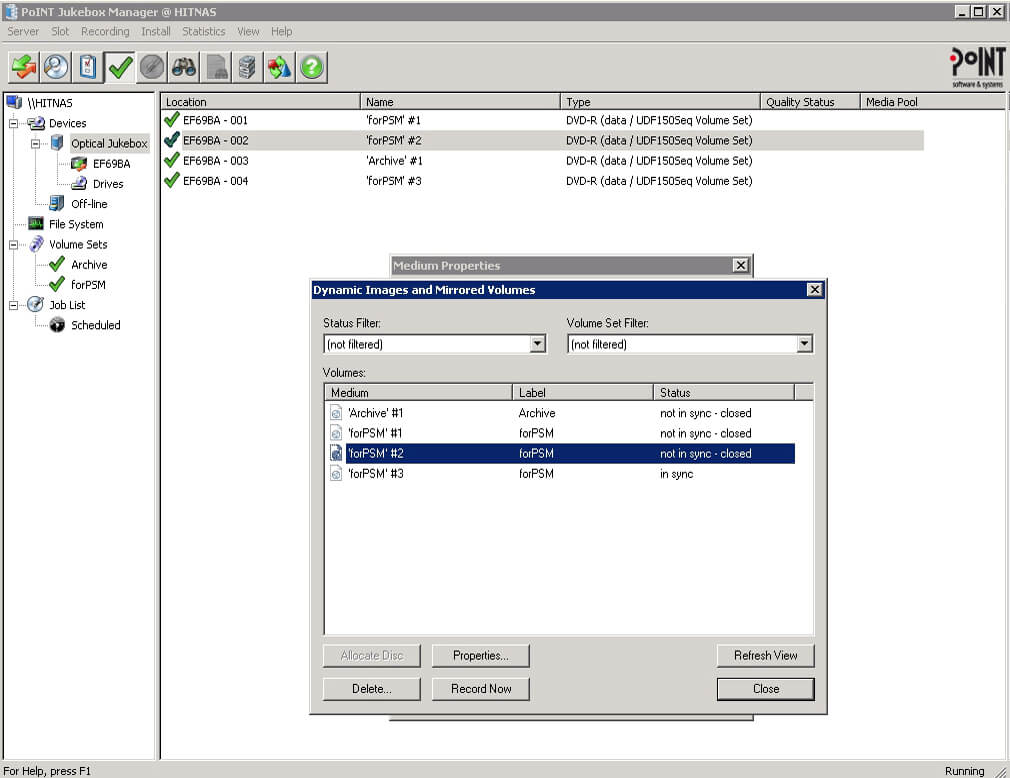 Thanks to the integrated mirroring functionality, PoINT Jukebox Manager is able to write data on two different media that can even be located in different jukeboxes. Even if a jukebox should break down, it is ensured that the archiving process can be continued smoothly. As an alternative to mirroring, copies of the finalized media, which can even be stored offline (e.g. in a safe), can be produced. Two PoINT Jukebox Manager servers can run in a clustered configuration, which allows an automated failover if one server is no longer available. To ensure data availability over decades, PoINT Jukebox Manager checks the data integrity on manual trigger or automatically in definable intervals. The administrator receives a report and is thus in a position to take the necessary safety measures in time. Mirroring and Clustering are optionally available.
Windows Cluster Support

Configuration of the PoINT Jukebox Manager Server can be designed redundantly by using the clustering option.
Data Protection (Encryption)

API Programming Support Package

This optional functionality offers the possibility to write own applications for combining other software programms with PoINT Jukebox Manager.
Storage Management
If besides archiving functionality also comprehensive storage management is desired, the PoINT Jukebox Manager can be enhanced by PoINT Storage Manager software which provides a broad hardware- and technology-independent storage management solution.
Benefits and Advantages
Fulfillment of compliance demands
Decreased energy cost
Minimized risk of data loss
Improved business success
Technical Information
Certifications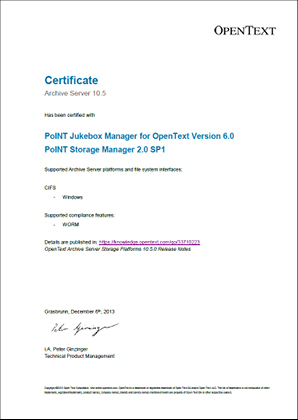 DocuWare AG
inboxx GmbH
Open Text Corporation
Supported Devices
DISC
HIT Netzon
JVC
PLASMON
ISDM
DACAL
ASACA
Additional information are available here.
System Requirements
Additional information are available here.