Migration with PoINT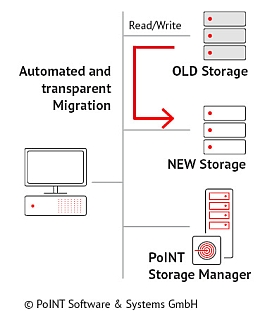 Automatic, smooth migration of primary storage systems.
Given the rapidly - even exponentially - rising volumes of data in todays world, alongside the fast pace of technological change, data migration is simply unavoidable. Businesses must constantly address new challenges – especially in the case of primary storage migration, which as a process should be automatic and avoid interrupting operations to the greatest extent possible.
The PoINT Storage Manager – Migration Edition meets these requirements by running an automatic "file system migration" process from the old file server to the new one without significantly interrupting operational processes.
As part of this process, the old primary storage system's directory structure is represented on the new system, allowing applications to access the new storage system even while the migration process is running in the background. Data is transferred to the new system at breathtaking speed, reducing interruptions to operational processes to an absolute minimum.