Cloud and Object Store Integration with PoINT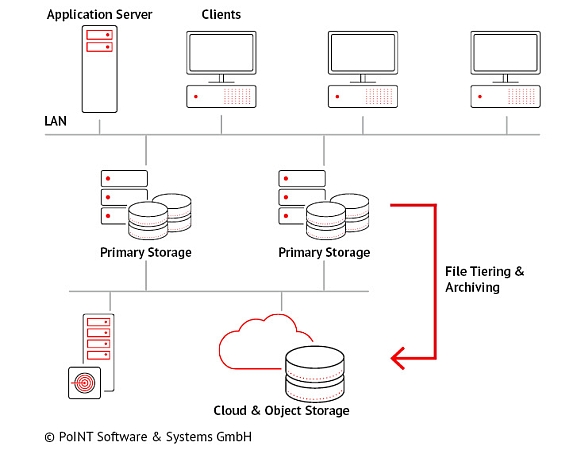 Rules-based file tiering and archiving in cloud and object stores
Most primary storage systems are overwhelmed with inactive, unstructured data. Files that have lain unopened for long periods of time are consuming valuable business resources. The result: the storage space required for active data is quickly used up, and the time required to secure data increases.
Businesses need a solution that allows them to manage and optimize unstructured data. Active files can remain on the faster primary storage system, while inactive files are moved to an archiving section. Data integrity and frictionless access to data must be preserved.
The PoINT Storage Manager, working in combination with cloud and object storage, provides a solution to this challenge. It can be integrated into existing infrastructure without any cost-intensive changes or disruption to operational processes, enabling rules-based file tiering. Primary storage data is archived in cloud or object storage, while users are guaranteed transparent access to all data. A range of archiving and tiering methods are available within the PoINT Storage Manager, including "Copy", "Migrate" and "Stubbing" in particular – the latter of these being a component of an underlying HSM architecture.