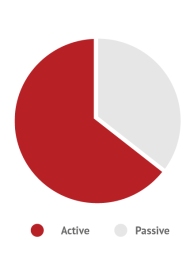 As data volumes continue to grow, so do the demands on storage strategy. New analytics options make the mass collection of unstructured data increasingly attractive. IoT applications also generate high volumes of data.
However, most of this data is inactive: it is cold data that is misplaced on performant primary storage systems.
The cold data occupies expensive storage capacity on the primary storage devices. As a result, storage space runs short and must be expanded.
Costs and time for backup increase unnecessarily if the inactive data is also regularly backed up.
Cloud and Object Storage for unstructured data
For the storage and management of this unstructured, inactive data, companies need to rethink their approach.
This is where cloud storage can be interesting:
great flexibility and scalability
particularly suitable for unstructured data
no hardware maintenance
Object storage on on-premises storage media is also a cost-effective solution for companies to store inactive, unstructured data.
Whether to choose an on-premises solution or an off-premises solution depends on a variety of factors.
Off-premises: Storage in the cloud
particularly suitable for data that does not need to be accessed regularly
low maintenance effort
On-premises: management in the local object storage
if applications need to access data frequently
more individual customization possible
data sovereignty guaranteed
There is a wide range of conceivable models, both demand-driven and hybrid.
If a company uses multiple target storage systems, the technological and geographical break increases data security.
With a multi-cloud approach, the data is stored with several different cloud providers. This reduces dependency on a single provider.
With a hybrid model, the advantages of off-prem and on-prem storage can be combined.
Cloud and Object Store Integration
The various storage media and storage technologies must be integrated into the existing storage infrastructure. A reliable software solution for storage and data management handles this.
In order for companies to benefit from the advantages of the different storage technologies within a hybrid storage infrastructure, such software must meet complex requirements:
Automated outsourcing of data:
Operational processes should not be disrupted. Therefore, the large amounts of data must be automatically stored on the designated storage systems.
Seamless access:
Archived data must be seamlessly available to users.
Vendor independence:
The software should support storage hardware in a vendor-independent way. This offers companies flexibility in selecting hardware and the greatest possible investment protection.
Standardization:
Storage hardware should be integrated via standardized interfaces, such as the S3 REST API.
PoINT's software solutions enable the seamless integration of cloud and object storage into an existing storage infrastructure. The decisive factors here are standardization and vendor independence. This gives companies maximum flexibility in selecting and assembling hardware for a multi-tiered storage architecture.
PoINT Storage Manager: Policy-based File Tiering and Archiving to Cloud and Object Storage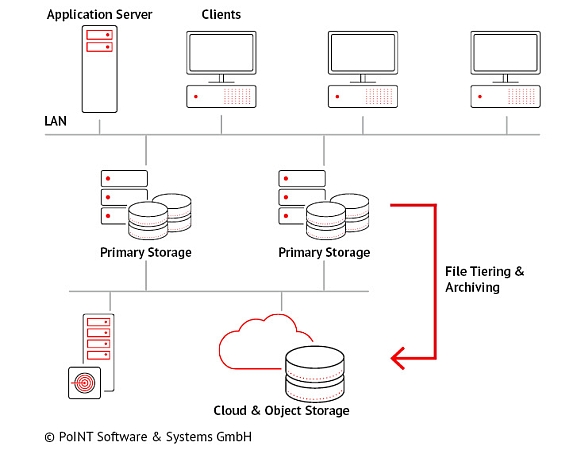 PoINT Storage Manager enables the integration of cloud and object storage into your existing infrastructure.
The software performs policy-based file archiving, moving files from primary storage to cloud or object stores.
Transparent access to all files is provided via the familiar user interface.
PoINT software supports a wide range of storage technologies independent of the manufacturer. This offers maximum flexibility in hardware selection.
PoINT Storage Manager uses a standard file system to integrate the different storage systems into a hybrid storage infrastructure.
Cloud and object storage systems are integrated via connectors and can also easily be combined with NAS, tape and optical systems.
Certified cloud and object storage

Amazon Web Services
Caringo Swarm
Cloudian HyperStore
EMC ECS
Hitachi Content Platform (HCP)
IBM COS
Microsoft Azure
NetApp StorageGRID Webscale
ObjectMatrix MatrixStore
Quantum ActiveScale
Scaleway Object Storage
Scality Ring
RSTOR Space
SUSE Enterprise Storage
Wasabi Cloud Object Storage
PoINT Archival Gateway: Secure and cost-efficient archiving of data volumes in the petabyte range
Big data and analytics applications often generate data volumes in the petabyte range. This data is usually backed up on fast, hard disk-based object storage systems. But often this is neither necessary nor economically viable.
Tape as a storage medium is the right choice for cost- and energy-efficient storage and archiving of large volumes of data. Our tape-based object storage PoINT Archival Gateway allows the integration of tape libraries as additional S3 storage class.
PoINT Archival Gateway receives the data via the standardized S3 REST API and writes them to tape with high performance.
The operating and energy costs are very low when using tape - especially compared to the costs that hard disks cause for operation and cooling.
Due to the so-called "air gap", data storage on tape offers special protection against cyberattacks and ransomware.
Our solution thus combines the advantages of object storage systems with the security and cost efficiency of tape as a storage medium.