Many organizations use disk-based object storage. These on-premises storage systems need to be regularly relieved of obsolete or inactive data. This is where the concept of Information Lifecycle Management comes into play: This storage strategy selects the appropriate storage tier for the data according to its lifecycle. As a rule, obsolete, inactive, "cold" data is no longer accessed. Nevertheless, it must continue to be stored. It is out of place on expensive primary storage systems and is moved to secondary storage using storage tiering and predefined rules.
Tiering to Tape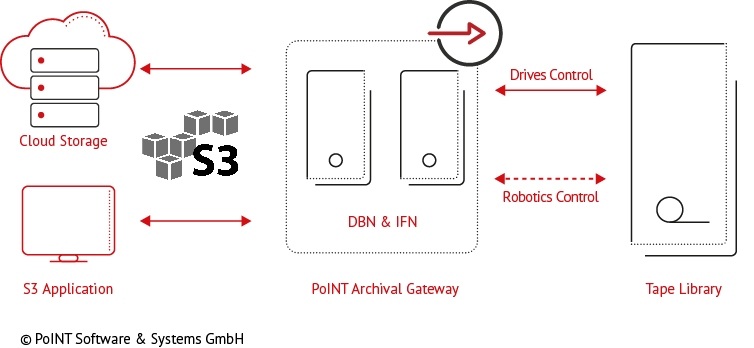 Primary, hard disk-based object storage systems can be relieved by tiering inactive data to tape via an S3 interface. Tapes offer themselves as a future-proof storage medium to meet the challenges of data growth and to back up unstructured data at high speed and at an acceptable cost.
Information Lifecycle Management for HDD Object Storage with PoINT Archival Gateway
Many disk-based object stores provide integrated ILM functions that can be used move inactive objects. For tiering to tape media, the target system must be an S3-capable storage system that supports tape libraries and that stores the tiered data in the native object format if possible. It is not advisable to first copy the objects to a file system and then store them on tapes. There is a risk of information loss here due to technical limitations. The S3 objects must be stored as such on tape. PoINT Archival Gateway receives the data via the S3 interface and writes it directly to tape media.
Tiered Storage Architecture for Object Storage
PoINT Archival Gateway is a high-performance, scalable object storage that supports tape libraries and that helps to implement a tiered storage architecture for object storage. The software has a standardized S3-REST interface and ensures data protection by the integrated "Erasure Coding". Thus, with the help of PoINT Archival Gateway the large amounts of data from object-based primary storage systems or also from the cloud can be moved or replicated to tape and stored protected in the long term.
Properties
ILM for HDD Object Storage on Tape
Standardized S3 REST API
Tiering and storage of objects in native format
Data security through encryption
Redundancy through erasure coding on tape
Benefits and Advantages
Efficient use of on-prem HDD object storage
Independence from tape library manufacturers
Low operating and energy costs
Protection against ransomware through "Air Gap"
Investment protection through standards
Technical Information
Target Systems
Here you can find information for the target systems.
System Requirements
Here you can find information for the system requirements.