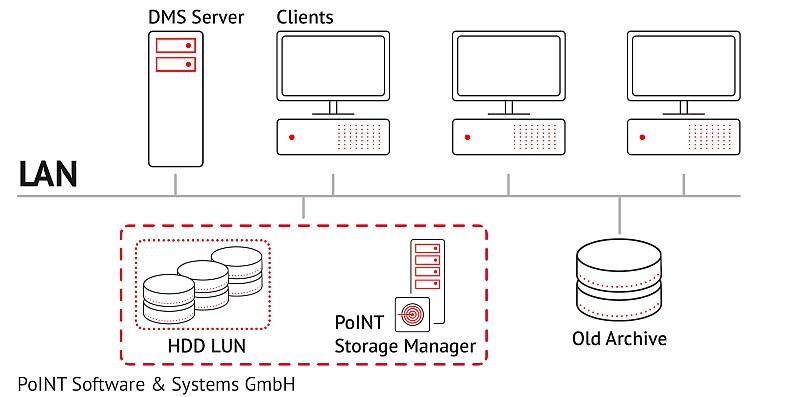 WAVE Computersysteme GmbH implemented a modern archiving solution based on PoINT Storage Manager. The solution allows an automated background migration of data from an obsolete archive system to be replaced without any interruptions of business operations and provides a WORM file system with standard CIFS file system interface for the existing DMS.
Furthermore a standard hard disk system is integrated as WORM archive storage by means of PoINT Storage Manager.
Challenges
Migration and replacement of an obsolete WORM archive system
Usage of a standard hard disk device (LUN) for the new archive system
Archiving of DMS data through a standardized CIFS file system interface
Fulfillment of archiving requirements
Solution - PoINT Storage Manager
Automated background migration of legacy data from obsolete to new archive storage devices
Providing a CIFS interface on the basis of a WORM-compatible file system for the DMS application
Protection against modification for archived data on file system level
Automated authentication of archived data by "digital fingerprint"
Advantages
No interruption of business operations due to background migration of legacy data to the new archive system
No effort on application level by retaining the standardized CIFS interface
No additional costs for DMS license extension
High investment protection by storing archived data in standardized format