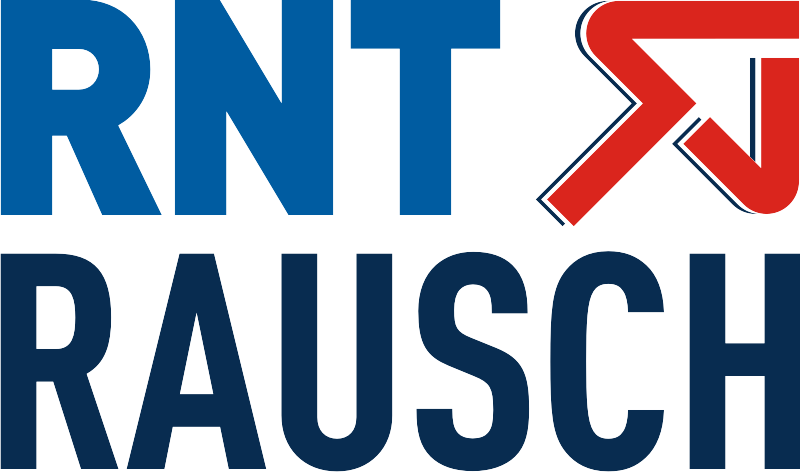 Conventional storage solutions are designed to meet the requirements of large companies. But small and midsize companies also need professional storage solutions based on industry standards to meet storage challenges. These include an archiving strategy and backup plans because data will continue to grow which is making intelligent storage management indispensable. However, many storage products are not suitable for smaller companies because these businesses cannot meet the required minimum storage.
Therefore, the challenge is to provide a cost-effective solution for smaller data volumes that is also meeting highest standards for data security and scalability.
PoINT Storage Manager and Yowie Storage Appliances from RNT Rausch
Yowie storage appliances with pre-installed Cloudian HyperStore software are designed to meet the requirements of small and medium-sized businesses. The plug and play solutions are fully S3 compatible and offer the best values in terms of performance and availability – with capacities starting from 32 TB. Yowie storage appliances are scalable, so they can be flexibly adapted to changing needs.
In combination with PoINT Storage Manager, a professional solution for storage management is available, which meets the requirements for infrastructure optimization, archiving and compliance.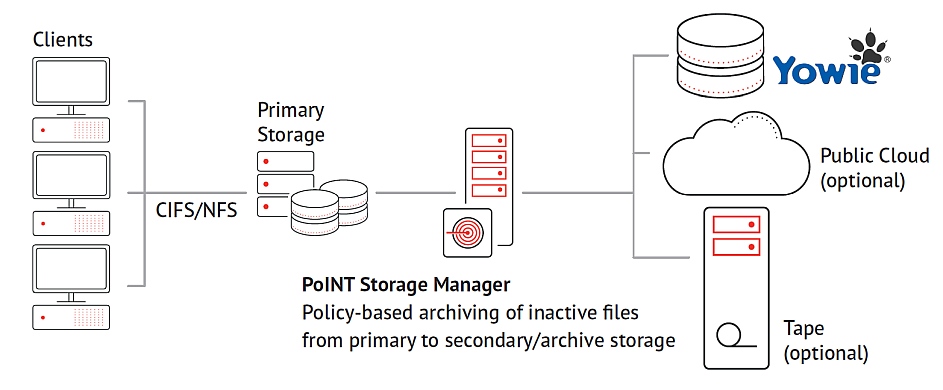 PoINT Storage Manager provides rule-based archiving of unstructured data to Yowie storage appliances. Archiving addresses unstructured data and is performed file-based. Archiving rules are defined according to the individual requirements of the company (e.g., by file type, age, etc.). Access to the archived data continues to be transparent and direct via the file system.
On the Yowie storage appliances PoINT Storage Manager protects the archived data against changes and premature deletion by means of retention management and WORM protection. Thus, the requirements of legally compliant archiving are met. Yowie storage appliances also use 3+2 Erasure Coding to increase data protection.
PoINT Storage Manager and Yowie appliances with pre-installed Cloudian HyperStore software including Object Lock are seamlessly integrated into the existing storage infrastructure as archive storage. In such a storage architecture with Information Lifecycle Management, primary storage systems are regularly relieved of inactive data. Backup volumes and backup times are reduced while cold data is securely archived.
Features
Automated and rule-based data tiering and archiving
Legally compliant archiving with WORM protection and retention management
Data protection through 3+2 Erasure Coding and Object Lock
Fast and transparent access to all data
Benefits
Efficient use of primarystorage and NAS
Cost and time savings through reduced backup volume
High flexibility and scalability
Small footprint due to "5 nodes in 3U" design
Sustainability through low energy consumption for operation and cooling
Tiering and Archiving with Yowie Storage Appliances and PoINT Storage Manager
PoINT Storage Manager is the solution for automated file archiving based on individually created policies. Within the scope of file archiving and file tiering, files are managed efficiently. PoINT Storage Manager integrates "on premises" storage as well as "off premises" storage as target storage independent of hardware and manufacturer. Thus, storage capacities are utilized with highest efficiency.
Yowie storage appliances are coming with the full Cloudian HyperStore software suite pre-installed. Combining Yowie with PoINT Storage Manager enables various tiering and archiving methods, like stubbing and linking files. It also supports Web Links which are independent of the source and operating systems.
Yowie Storage Appliances
It's not only about storage, it's about data management. Yowie storage appliances let you start small and scale out by just adding more appliances to your cluster non disruptively. It's also no longer about on-prem vs. Cloud rather than on-prem and Cloud with Yowie's native S3 support. Ranging from only 32TB up to 142TB usable capacity Yowie® 53H-series are equipped with 3 enterprise HDDs per each node and are the right fit for cost sensitive customers with volume backup and archival needs.